Description
Topaza Pyra coffee description
Topaza Pyra is a unique coffee blend by Quirky Coffee Co. We have developed a bespoke blend of 100% Arabica Single Origin beans for coffee lovers everywhere. Freshly roasted to order, your bag of Topaza Pyra will be delivered directly to your door.
We have developed our very own signature unique Quirky Blend, Topaza Pyra. It delivers on taste and punchiness to satisfy the taste buds of any coffee lover. Topaza Pyra is a unique Quirky Coffee Co blend.
The beans that are combined to make our unique blend not only have the inclusion of SCAA graded beans but also our blend has the honour of beans that have been awarded the Cup of Excellence. Only the finest beans are used to make our Quirky Blends.
The delicious aroma will surround you when you rip open your coffee bag and immediately you will be wanting to brew the perfect cup of coffee that this unique blend will offer you. All our single origin beans and bespoke blends are lovingly roasted to perfection, right here in the UK. If you have enjoyed Topaza Pyra why not try our other delicious blend, Lonchura Malacca.
Volume
How many cups of coffee can I enjoy from the bag size purchased? Of course, these amounts will vary depending on how strong you like your coffee, how you brew your coffee and finally how big your cup is!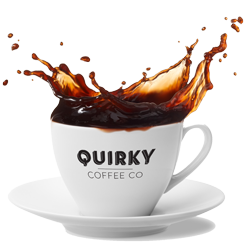 250g – 15 cups
Avg price per cup: £ 0.57
500g – 30 cups
Avg price per cup: £0.55
1Kg – 60 cups
Avg price per cup: £0.53
Would you like this coffee every month?
Instead of one purchase, why not subscribe to receive this every month?