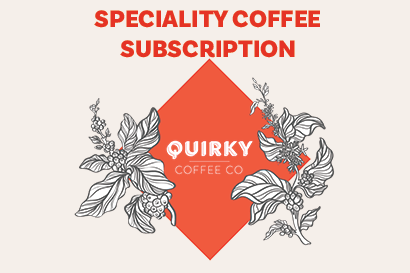 Coffee Subscription
Dearest customers, it's Michelle here, I am the founder of Quirky Coffee Co and a lover of everything coffee!
I wanted to personally welcome you to the home of the best speciality coffee subscription that you will find online. You can now enjoy artisan coffee shop style coffee at home every day without having to remember to re-stock your coffee supply, ever again.
Buying coffee has never been easier
There are many coffee subscription services available online, but my subscription service is one of the easiest to sign up to. From only £7.50 per month, you can drink magnificent coffee all day, every day. If you were to buy 250g of artisan coffee every month that is around 15 cups of coffee (depending on your cup size) for just 50p per cup. Just think what it would cost you in your local coffee shop for 15 cups of coffee. So not only are you enjoying the finest roasted coffee but also saving money!
Discover and enjoy…
Do you want a carefully selected coffee delivered to your door every month? I've got it covered. Select RANDOM from the menu and you will receive a different coffee every month. One of my single origins or unique blends will be sent to you over time for you to discover your favourite from the Quirky Coffee Co range of freshly roasted coffee beans.
I know my customers!
Unlike other subscription services, where random is the only option, I can send you your favourite artisan coffee every month. Just select your favourite and I will ensure that the coffee you enjoy is delivered to you over and over again.
Fancy a change?
Everyone likes to find something new to enjoy so if you want to change your subscription order then feel free to do so. Simply drop me an email and I will ensure that your next delivery is to your requirements. All I ask is that you make any changes to your subscription 2 days prior to your delivery date and I will do the rest.
Special guest appearances
I love discovering new single origins and always have a supply of exciting coffee from regions around the world. I want to be able to share these with all of my coffee subscribers. From time to time you may just find a surprise delivered to you when you select the random category for your monthly subscription. Any guest appearance coffees are exclusive to subscription members.
Keep your eyes out too for extra special offers for loyal subscription members.
An easy life…
Quirky Coffee Co was born from my love of coffee. Selecting and enjoying amazing speciality coffee shouldn't be a difficult task and I want to make this accessible and easy for everyone. No complicated choices, no confusing structure to subscriptions and you can cancel when you wish. Just one simple monthly payment and your magical beans will be delivered directly to you.
I always welcome feedback too – this is important to ensure that I am always providing the best service possible. If there is something that you think is missing from the world of speciality coffee, then let me know. Customers are my friends and like any good friendship, it's good to talk!
Delicious coffee and happy customers
The centre of my business is not just fantastic coffee but more importantly that every single customer is happy. I love to chat about coffee, I love to drink coffee and if you are ever unsure of anything then let's chat.
How much coffee do you want?
Some of us drink a lot – I'm guilty! Others enjoy just the odd cup of coffee now and then. There is a weight selection to suit you all. Here is a guide if you are unsure…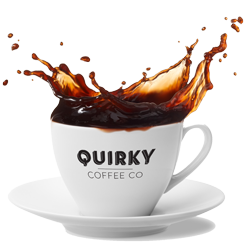 250g
15 cups
Avg price per cup: £ 0.57
500g
30 cups
Avg price per cup: £0.55
1Kg
60 cups
Avg price per cup: £0.53
2Kg
120 cups
Avg price per cup: £0.48
5Kg
300 cups
Avg price per cup: £0.43
Whole bean or ground
Not everyone has a grinder at home so if you need your coffee ground then I can do this for you. All of my coffee is freshly roasted right here in the UK and if you need to receive your coffee ground then just select which type of grind you require. There are so many amazing ways to brew your coffee!
What are you waiting for…
Artisan speciality coffee to enjoy in the comfort of your own home or at work can now be yours. Easy to order and delivered to your door, simple!
A big thank you to all of my existing customers and I am looking forward to spreading the Quirky Coffee love to even more coffee lovers.
Michelle x